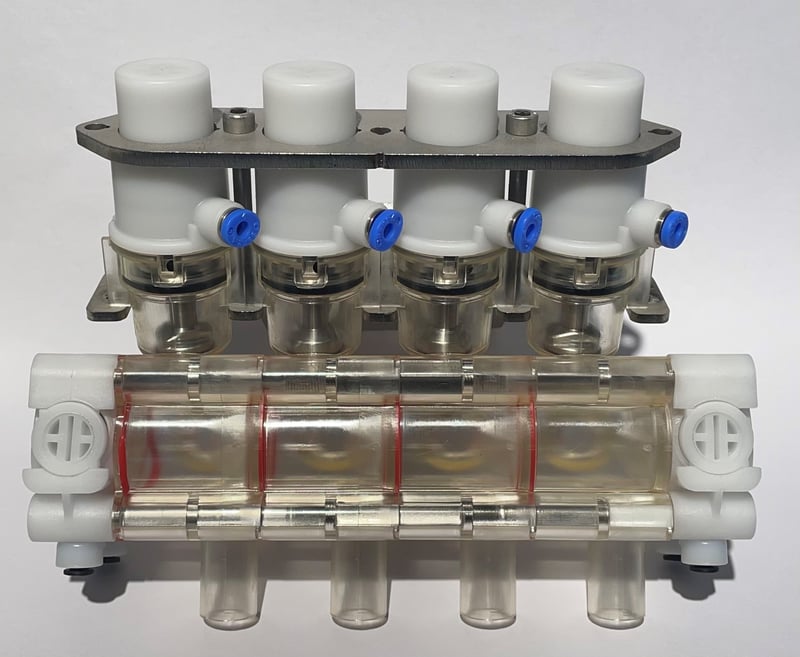 Story
The Valve Block Assembly
The Valve Block Assembly is the core of a milking robot developed by an innovative leader in designing and manufacturing automated systems for dairy farmers around the world, with the goal of excelling in sustainable milk production.
With the help of Bufab's complete supply chain service – from sourcing, purchase, assembly, quality assurance, stock management, to delivery of the final part – we were able to lower the cost per item. In addition, we also reduced the Total Cost of Ownership (TCO) for the customer.
Challenges
The customer needed the space occupied by the Valve Block Assembly and wanted also to reduce the complexity, having many C-parts suppliers for the product.

Because of the complexity and the required high-quality level of the Valve Block Assembly, the customer wanted to outsource this sub-assembly to a reliable partner. The aim was also to reduce the Total Cost of Ownership.

In addition, the customer sometimes had problems with damages during transportation.
Approach
Together with the customer, we decided how the assembly would be done in the best way, taking into account previous experiences.

We combined Bufab-sourced components with components from prescribed suppliers. With our in-house-designed tools, we were able to optimize the efficiency of our in-house assembly.

We also looked at new ways to safely package the product.
Outcomes
Benefits for the customer:
Cost savings – reduced Total Cost of Ownership

Reduction of suppliers

One part instead of 86

More flexibility and capacity in production while the Valve Block Assembly is delivered as needed

Customer can focus on core business
Get in touch with us to start discussing how we can help you.