We collaborate proactively with our suppliers on continuous quality improvement, lead time, and total cost reduction. Equally important is to respect the human and environmental perspective to promote fair and safe working conditions and to reduce emissions in our supply chain.
As a trading company, Bufab has a significant impact on sustainability, through its own activities but primarily through the actions of our suppliers. Therefore, we require that all our suppliers agree with and sign our Supplier Code of Conduct.
Interested in being a supplier to Bufab?
We are continuously looking for new suppliers that fulfil the Bufab requirements. The interest of different products and production processes may vary over time when we are growing in different industries.

Our supplier requirements and evaluation methods are described in the requirements related to the onboarding process.

Through the journey we secure compliance and a more sustainable world together.
Upload your documents and complete the form to begin the onboarding process for new suppliers if you:
Have the ambition to improve quality delivery and customer experience continuously
Actively work to improve efficiency and total cost
Invest in a long-term relationship with Bufab and value the access to our worldwide business opportunities
Commit to our principles of Corporate Social Responsibility and Code of Conduct
Link to our general requirements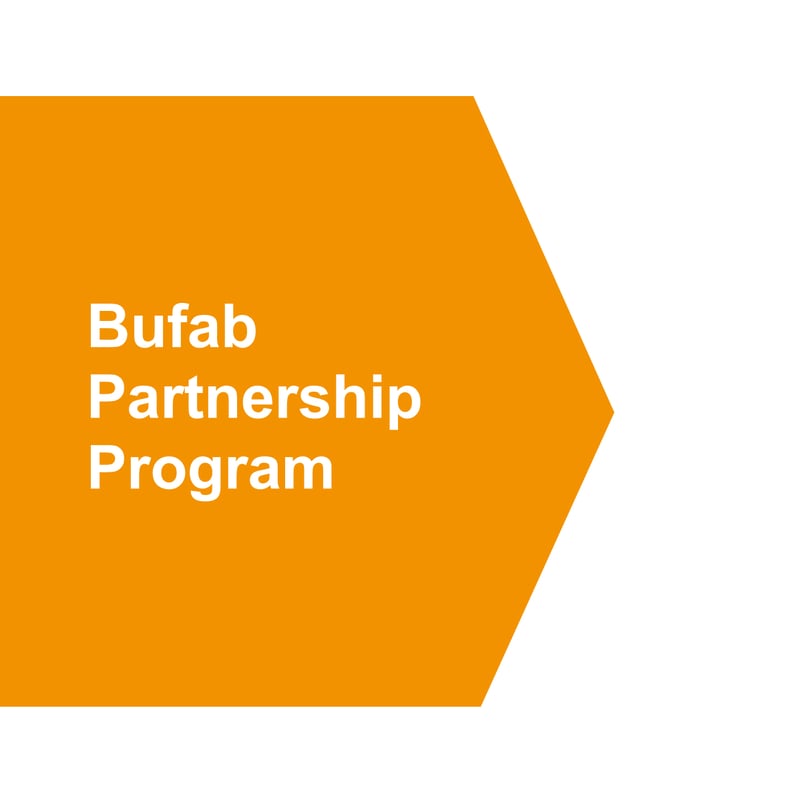 The Bufab Partnership Program is our way to build long-term relationships and create continuous improvements as a team. At Bufab we're aware that the supplier-customer relationship is changing. It's becoming more dynamic, with a focus on long-term strategic partnerships that create value for everyone – not just for our profits, but for people and the planet.

We're investing heavily in sustainable initiatives like renewable electricity and encourage our partners to do the same. In addition, we continue to encourage all our partners to challenge us with fresh ideas that could bring continuous improvement into our common value chain. In this section, you will find information on how to develop into a Bufab Partner and grow your business.
Partnerships and business growth
Approved
Competitive and qualified range supplier
Regular performance reviews
Preferred
Signed purchase agreement
Supplier process audit approved
Regular review and collaboration meetings
Preferred supplier option at global item pricelists and RFQs
Partnership
Regular sustainability and supply chain development meetings
Digital collaboration and integration
First option at global new business and consolidation projects
General requirements
Bufab Group has established general terms and conditions for all direct material.
Supplier Code of Conduct
At Bufab we are committed to operational excellence, ethical and responsible conduct, fair and respectful treatment of all individuals, and practices that promote safety, health, and environmental protection. All suppliers to Bufab must agree on internationally recognized standards on human rights, labor rights, environment and anti-corruption by signing the Code of Conduct.
General Purchase Conditions
Bufab Group has set out certain terms and conditions of purchase that is to be followed by both Bufab and the supplier to form a good partnership.

This general purchase condition helps the suppliers to gain insights into Bufab requirements.
Supplier manual
Bufab has composed an easy and efficient way to provide all the information that helps us work together to achieve great things.

This supplier manual illustrates the detailed flow of the process from handling of inquiries and offers, orders, sales information, transportation, and payments.
Documents
Business principles suppliers must agree on:
Sourcing
Bufab Group has created a systematic set of processes to guide you efficiently to become our partner. The main points are:
Supplier classifications
Supplier manual
Onboarding process
Requirements related to the sourcing process
Compliance
Bufab Group has a set of rules and regulations to ensure the effective functioning of our company. Please find the compliance policies established by the Bufab group below:
Policies
General terms and conditions
Legal compliance
Supplier code of conduct
Packaging requirements
Invoicing instructions
Sustainability
Bufab Group is committed to continuously improving sustainability by maintaining the balance between environmental management, social progress, and economic success to pave the path for a better future. Supplier requirements for sustainability:
Sustainability declaration
KPI definition
Quality requirements
Material declaration
Conflict minerals
Restricted material list