We offer customized solutions to reduce the different cost-driving factors in the C-parts value chain. The solution areas and details below have emerged over years of experience in adapting our offer to meet customer requirements. We are a global team that acts locally based on your needs and possibilities.
Source according to your specific needs
Simplify and reduce cost over time
Utilize our possibilities to improve together
Secure sustainability, quality and deliveries
Source
Meeting 100% of your needs.
C-parts may be a tiny part of your operation, but it's our core business, providing you with an optimized selection of suppliers.
We have dedicated specialists in each step, from sourcing appropriate suppliers to quality control and logistics.
Direct and early contact to engineering and production expertise for your special parts project.
Simplify
For streamlining and cost reduction.
Reducing the number of suppliers and parts is reducing the Total Cost of Ownership.
Achieving effortless replenishment and secured stock level of C-parts, eliminating shortages and downtime caused by human error.
Reducing the number of contacts, transports, invoices, and routines makes life easier.
Improve
Utilize our possibilities to improve together based on experience and industry best practices.
Better utilization of staff, space and equipment based on knowledge and facts.
Your parts already kitted in bags, or assembled.
When you need deeper C-parts expertise than you have available in-house.
Secure
Securing quality and on-time delivery in a sustainable way.
Sustainability matters, also for C-parts.
Quality excellence is key.
On-time delivery in full is a prerequisite for effective business.
We take end-to-end responsibility to make sure that you have an efficient supply chain system.
We are the C-parts sourcing partner for a wide range of customers in almost any industry from furniture to aerospace.
We support your global or multinational organization in streamlining and developing your business.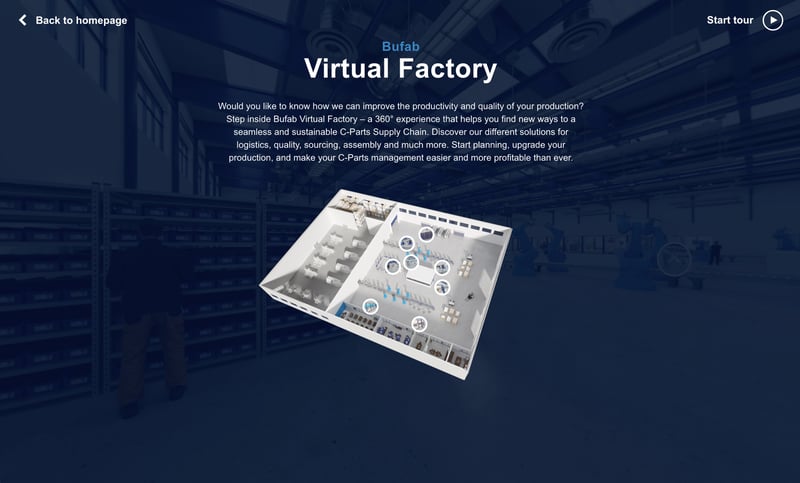 Would you like to know how we can improve the productivity and quality of your production?

Step inside Bufab Virtual Factory – a 360° experience that helps you find new ways to a seamless and sustainable C-parts supply chain. Discover solutions for logistics, quality, sourcing, assembly, and much more. Start planning, upgrade your production, and make your C-parts management easier and more profitable.